Pittsburgh Financial Fraud Lawyers | Embezzlement and White Collar Criminal Defense Attorneys
Fraud, Embezzlement, And White-collar Crime Defense Lawyers Of Pittsburgh, PA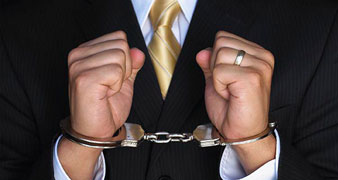 Law enforcement investigations into white-collar crimes are among the most complicated cases in criminal law. Even a single charge on an individual may require the review of tens of thousands of corroborating documents to build an effective legal defense. Not all criminal defense firms have the ability to read through the volumes of discovery evidence and find those items that support a viable legal defense for their clients. If you've been charged with a white-collar crime, like fraud, embezzlement, or employee theft, you need to retain the services of a criminal defense lawyer who is knowledgeable about this area of the law and who has the resources to diligently peruse thousands of pages of evidentiary documents. You need the criminal defense team of DeRiso, DeRiso, Suher and Jeffries.
Criminal Defense Lawyers of Allegheny County
The criminal defense lawyers of the Pittsburgh, PA law firm of DeRiso, DeRiso, Suher and Jeffries have over six decades of combined legal experience. A large part of their practice has been dedicated to those who are accused of fraud, embezzlement, and other means of misappropriation of assets. Our attorneys have reviewed millions of pages of documents and have defended cases at both the state and federal levels, including the 3rd and 6th Circuit Federal Courts.
Because of their experience as criminal defense lawyers who focus on white-collar crimes, they have a distinct advantage over other attorneys who are new to this area of the law. The lawyers at DeRiso, DeRiso, Suher and Jeffries have established a rapport with the agents of the various federal agencies that investigate white-collar crimes, including the FBI, Secret Service, and the Criminal Investigations Division of the IRS. These relationships facilitate the smooth exchange of information when researching cases. Furthermore, our attorneys' familiarity with forensic accounting enables them to determine which of the thousands of documents are material to the case. This frequently allows the case to proceed at a faster pace for our clients.
Private Fraud Defense Attorneys of Western Pennsylvania
When you meet with one of the attorneys at the criminal defense law firm of DeRiso, DeRiso, Suher and Jeffries of Pittsburgh, they will review the charges against you. Should you decide to retain their services, they will begin requesting the discovery evidence that the prosecution is holding. The federal and state law enforcement agents who have built the case against you are among the most professional and well-trained in law enforcement. Don't take a chance with a criminal defense lawyer who has little experience with white-collar crimes like fraud or embezzlement. Put your trust in attorneys who have defended some of the biggest cases in the history of the commonwealth of Pennsylvania.
To schedule an appointment with one of Pittsburgh's premier criminal defense lawyers, call DeRiso, DeRiso, Suher and Jeffries at (412) 452-9712.