Pittsburgh Personal Injury Lawyers | Personal Injury Attorneys
Protecting the Rights of the Injured in Pittsburgh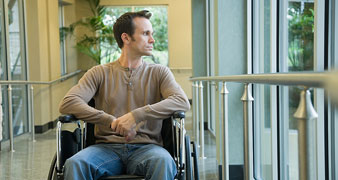 At the Pittsburgh law office of DeRiso, DeRiso, Suher and Jeffries our goal is to hold liable individuals or corporations accountable when your suffers from a serious injury or wrongful death. We make sure that insurance companies fully address your needs, now and into the future, and we work hard to get you full and fair compensation.
Insurance companies recognize the difference between attorneys who threaten to litigate and lawyers who aggressively take cases to trial
If you or a loved one has been injured as a result of someone else's negligence or wrongdoing, you may be entitled to compensation to address your injury and suffering. The lawyer you hire can play a large part in the quality of settlement you can receive. Put our decades of experience, proven litigation record and commitment to client service behind you.
Understanding Personal Injury Litigation
If you have been injured, before you accept any settlement or insurance offer, make sure you understand your rights. Many people don't realize, for example, that if they have been injured at work and received workers' compensation, they may still have a 3rd party civil litigation personal injury claim. Other people may not realize that personal injury settlement can address more than immediate needs, but also long-term costs.
Our attorneys will fully evaluate your claim, and help you seek compensation for:
Hospital Bills
Medical Expenses
Pharmaceutical Costs
Partial or Permanent Disability
Long-Term Care
Lost Wages
Diminished Earning Potential
Personal Suffering Costs
We work with people injured in car accidents, trucking accidents, workplace accidents, slip and fall cases and dog bites among many others. We can help you by fully evaluating your claim and work to make sure that the money you receive covers your needs today and tomorrow.
Consult With an Attorney — Know Your Rights
With a free initial consultation and contingency based fees, it costs you nothing to discuss your personal injury case with an experienced attorney. Our office has the qualities, knowledge and experience to be highly successful for personal injury clients. Contact us online or by phone today at (412) 452-9712 to schedule an appointment.