Pittsburgh Civil Litigation Lawyers
Representing Individuals in all Levels of Civil Litigation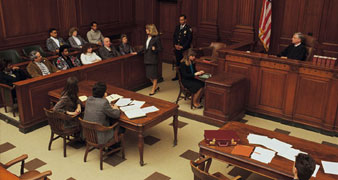 From small claims cases to high-cost and catastrophic personal injury, the lawyers at the Pittsburgh office of DeRiso, DeRiso, Suher and Jeffries, represent clients in all kinds of civil litigation cases. Whether you simply need guidance or advice to pursue a small litigation case, or you need the support of a law firm with significant resources, ability and experience, we stand ready to stand behind you.
People involved in civil litigation come from all walks of life. We have helped:
Businesses
Employees
Independent Contractors
Entrepreneurs
Individual Purchasers and Sellers
Seriously Injured Family Members
In short anyone can become involved in civil litigation, and having an attorney you trust on your side can go a long way toward protecting your needs, rights and interests.
The Counsel, Advice and Representation You Need
Civil litigation can be address matters from a few hundred dollars to millions, but in all cases you may be benefitted by the knowledge and experience of a proven trial attorney. Our office supports clients in civil litigation cases of:
Wrongful Death
3rd Party Injury Cases
Workers' Compensation
Contract Disputes
Partnership Disputes
Independent Contractor Disputes
Understand your rights and options whether you are owed money or you have been named as liable in a civil litigation suit. We can give you the information you need to move forward.
Schedule a Consultation With a Lawyer
When you need reliable advice and effective representation for any size civil litigation matter, you can rely on the attorneys of DeRiso, DeRiso, Suher and Jeffries. Call our office at (412) 452-9712 or contact us online to schedule an appointment.